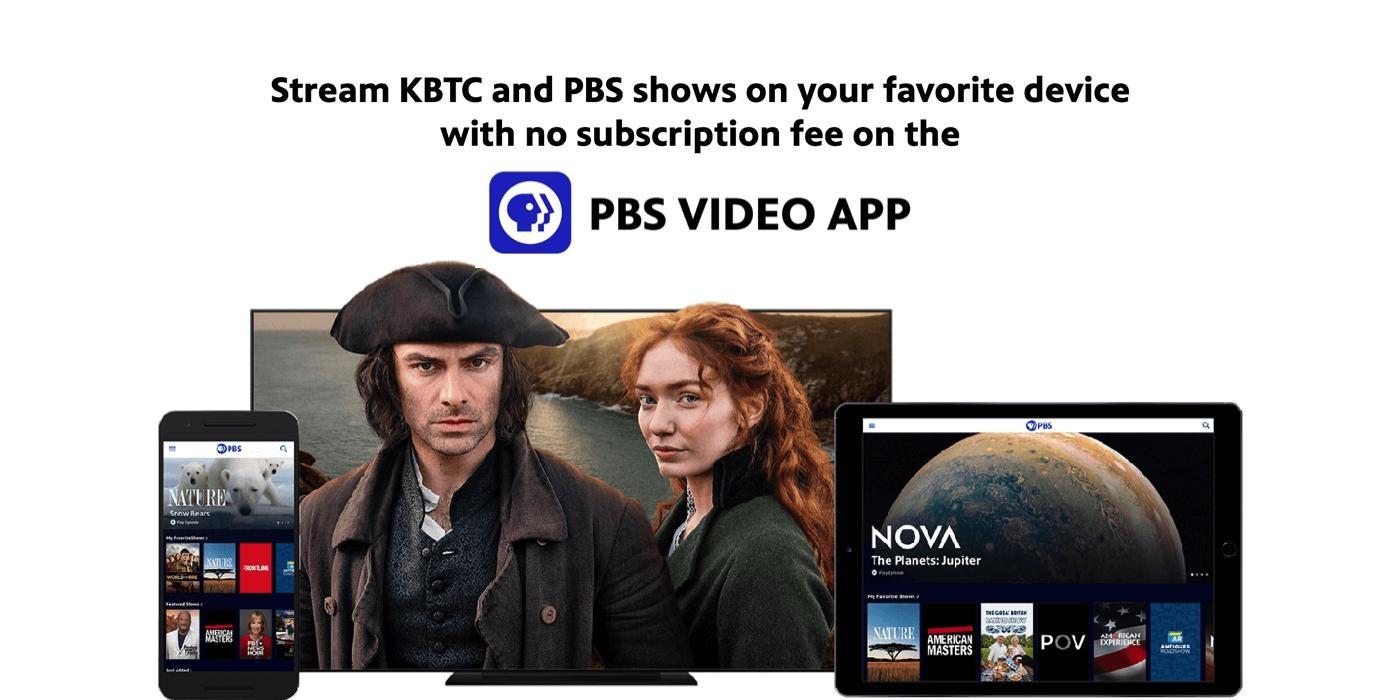 Now you can watch 4000+ PBS shows on demand and locally produced programs from KBTC including our weekly news program, Northwest Now, plus regional documentaries and specials that matter to you.
You can also watch KBTC's Livestream, our daily broadcast, 24/7.
Stream PBS shows like MASTERPIECE, Ken Burns Documentaries,
Poldark, NOVA, Nature, PBS NewsHour, FRONTLINE, and more on your
favorite device as soon as they are released!
Sync your content across devices
Activating your device allows you to:
Easily connect with content from KBTC
Access your Watchlist
Sync all of your favorite local and national shows across all of your devices

Questions? We're here to help!
How do I activate the PBS app?
If you're using an iOS or Android mobile phone or tablet, you don't need to activate, but you can sign in or sign up with a Facebook, Google, or PBS account inside the app. If you're using a Roku, Apple TV (tvOS), Amazon Fire TV, Android TV, or Samsung Smart TV, access the PBS website via the link below to activate your streaming device:
Frequently Asked Questions:
Q: What is the KBTC Livestream?
A: The KBTC Livestream is our daily broadcast and is available in "real time" which means that you can watch live as it's happening. The KBTC Livestream is exactly what you watch on your television if you had a cable subscription or have an antennae.
Q: What devices can I use to watch the KBTC Livestream or other streaming video?
A: You can also watch the live stream on the PBS Video app on the below devices.
Roku
Apple TV (4th generation and newer)
Amazon Fire
Android TV
Apple iPhones and iPads
Android mobile devices
To watch the live stream on these devices, open the PBS Video app home screen and select Live TV at the top or left side of the app. Press OK on your remote to begin watching.
The live stream is not available on the PBS Video app on other devices at this time, but we are working on bringing live streaming to other devices in the near future.
You can also watch the live stream on your computer or on other devices that support the following web browsers: Google Chrome - Mozilla Firefox - Safari - Microsoft Edge
While other web browsers can visit PBS.org - such as Amazon Silk or third-party browsers included on Smart TVs - these web browsers are not officially supported and we cannot guarantee video playback or offer troubleshooting for these unsupported browsers.
Q: Can I watch the KBTC Livestream, locally produced KBTC specials and other PBS shows without a cable subscription on my Smart TV?
A: Yes! The KBTC Livestream, KBTC locally produced content PBS programs are all available free of charge on the PBS Video App whether you watch on your smartphone, tablet, or television. When you download the App it will prompt you to select your local PBS station. Choose KBTC and and enjoy!
Q: What programs are available on demand on the PBS Video App?
A: In addition to the KBTC Livestream and locally produced shows and specials by KBTC, over 4,000 programs are available for you and your family to enjoy as soon as they are broadcast on PBS. This includes programs that are released before they air on KBTC. Sign up to receive an email delivered to your inbox every week that features new content notifying you of new programs that are available to watch. Click HERE for our passport web page.
Q: Do I need to be a Passport benefit member or pay a fee to watch the live stream on PBS.org?
A: No, you do not need to be a KBTC member in order to watch our live stream. There is no fee required, and you will not be prompted to enter any payment information before watching the live stream.
Q: I saw a program on my station's live stream and would like to watch it again. Can I watch the program elsewhere?
A: The PBS.org site and PBS Video app offer thousands of videos for streaming at your convenience, including popular programs such as Nature, Masterpiece, NOVA, American Experience, and more.
Unfortunately, due to the different legal rights required in order to offer videos on our site and app, not every program is available for streaming outside of the live stream. It's possible that PBS or KBTC may only have the rights to offer a program through television broadcast or the live stream, and cannot offer the program outside of those two options.
If you are interested in a program that is unavailable through streaming with PBS, we recommend checking KBTC's schedule for any possible re-airings of the program.