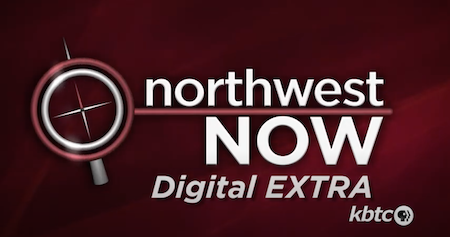 Manny Ellis Update 5/27
Update on charges filed against Tacoma Officers
Ocean Acidification
A look at the acidification of Puget Sound and the rest of the Pacific Ocean
Meet Northwest Now Host Tom Layson
Tom Layson is KBTC's Managing Editor and worked in Yakima, Terre Haute, Louisville, Sacramento, Columbus and New York-New Jersey. Tom anchored 13 hours of live coverage in the NY/NJ market during 9-11 - just one example of the many thousands of hours he's been on set or in the field covering politics, natural disasters, courts and crime, economic development, personal finance and the environment. Tom won an Emmy for Northwest Now and is a graduate of PLU who currently resides in the Puyallup area.
Ocean Acidification
A look at the acidification of Puget Sound and the rest of the Pacific Ocean
Real Estate 2021
Home buyers struggle to get into new homes in a competitive market.
Tacoma Totem Pole
Will a downtown Tacoma totem pole be removed?
Northwest Now Digital Extra: Open Government 2021
A look at your rights to public records
The Peace Bus
A ride along in a vehicle powered by peace and charity.
Boeing Business Impact
Boeing's impact on the local business community
NWN Digital Extra COVID Vaccines
A discussion with a local woman who was one of Washington's first to get the COVID Vaccine
Northwest Now Digital Extra Picking Up The Past
Creosote's impact on water quality
Northwest Now Digital Extra Hand Up Project
Helping the homeless on the streets of Everett
Northwest Now Digital Extra Megafires
Meeting those directly affected by September wildfires
Northwest Now Digital Extra Inside The CHOP
Northwest Now contributor Linda Byron talks to residents inside the former CHOP
Northwest Now Digital Extra COVID Back To School
How local students are coping with COVID while returning to remote learning
Northwest Now Digital Extra COVID Financial Impact
What kind of damage could COVID do to the local economy?
Northwest Now Digital Extra Child Care Aware
Child care during the COVID pandemic
Northwest Now Digital Extra Vaccinations
The importance of being vaccinated
Northwest Now Digital Extra College Impact
Bates Technical College President Lin Zhou Discusses how COVID will cause changes
Northwest Now Digital Extra Red Cross
The Red Cross discusses blood supply during COVID